Do You Know Where Your Building's Sewer Line Is Located?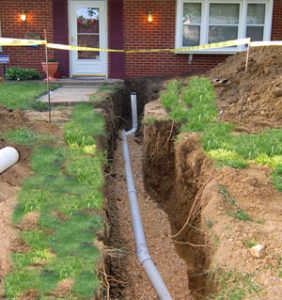 One of the trickiest aspects of sewer line repair is that it involves dealing with plumbing systems that we cannot see. Many homeowners do not know much about the location of their sewer system outside the house. However, Escondido Plumbing Whiz can help you locate your sewer system so that you can understand where to look when there is a sewer line problem. We have many years of experience in plumbing repair and have the knowledge and experience to handle any type of sewer line problem. Our company not only provides sewer line repair services, but it also provides clients with recommendations for the best plumbing systems to use and advice on sewer line maintenance.
Here are useful tips for locating where your home's or business's sewer line is located.
Check with City Hall
Obtain copies of your building permits from the city planning offices. You will find a rough drawing of your home, details of your lot, and the exact location of the sewer pipes from your home to the city sewer system in one of the documents attached to the permit. You may be required to pay a small fee to obtain these details from the city planning office. Use the rough drawing to determine the approximate location of your sewer pipes.
Leave the Job to the Experts
If you are unable to obtain copies of the permits or cannot comprehend the rough drawings, hire Escondido Plumbing Whiz to help you locate the sewer pipes buried under your lawn or home. We will start by locating the sewer cleanout valve, which is normally located near the bathroom, close to the outer walls of the house.
Our technicians will use a pipe wrench to remove the lid of the sewer and then use a device known as plumbing snake to map out your plumbing system. We may also use video plumbing to help locate the sewer lines placed outside your home. The video plumbing device will provide a video feed for your sewer lines.
It is advisable to know the location of the plumbing systems outside your house to make it easier for you to determine problems with your plumbing system. Schedule an appointment with one of our qualified Escondido plumbers to help you locate your sewer lines.