Drain Cleaning Tips to Avoided a Clogged Kitchen Sink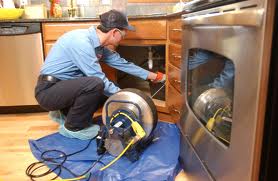 Kitchen sinks always seem to clog at the worst times. Either when you're cleaning up from a large family meal or when you have guests. Sometimes the clog is caused by excess food stuck in the drain and can easily be removed with your fingers. Other times, the clog is farther in the pipe past the point where it can easily be reached or plunged.
It's easy to call a drain cleaning company in Escondido to clear a clogged kitchen sink, but what if you could avoid the time and expense of doing this? Here are a couple of tips to help you keep your kitchen sink clear and ready to work at a moment's notice.
Keep Trash Away from the Sink
Trash never belongs in the kitchen sink. Packaging and food scraps should always be thrown directly in the trash. It's tempting to use the sink as a temporary trash can while you're cooking dinner, but it's easy for non-organic substances to fall into the drain without your knowledge and become lodged. If you don't like to walk back and forth to your trash can, consider a trash bowl to store your scraps and packaging in to throw away all at once.
Don't Pour Cooking Oil into the Drain
Cooking oil, grease, and fat from cooked foods should be disposed of in other ways than rinsing them down the sink. These substances can harden and coat the inside of the drain pipes. The sink may not clog right away, yet over time you will start to experience problems.
Hydro Jet Drain Cleaning and Drain Camera Inspection
If your sink does become clogged, as your local drain cleaning company in Escondido, we can help you. Hydro jet drain cleaning and drain camera inspection are the tools of the trade we use to locate and clear the toughest drains – guaranteed!
Call us today to learn more!